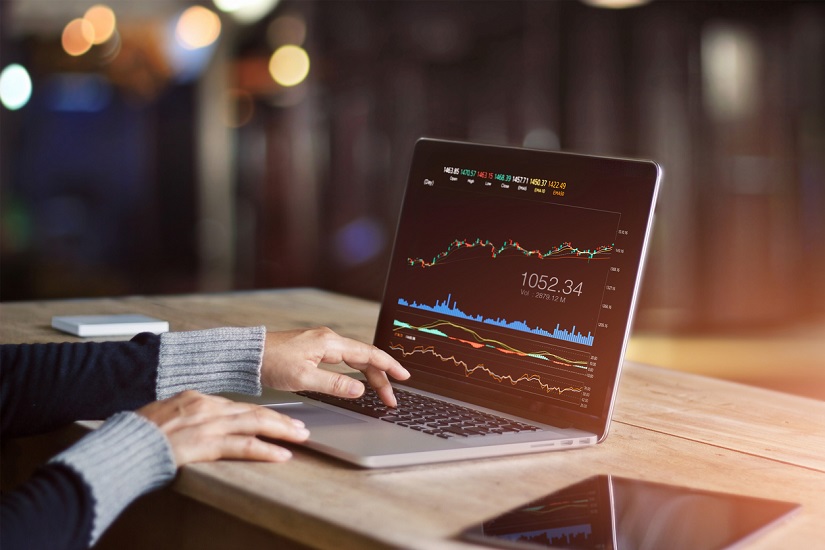 If you watch cable news channels, you've seen the ads.  Family man, can't sleep, working from home in a modern, sleek home office.  While his kids slumber, he can't help but harness his latest brilliant trading revelation.  It will probably pay for his kids' college, maybe even med school.  He puts on his glasses, turns on his workstation and does what he is destined to do.  While the lazy world sleeps, he makes sense of it all and solves the riddle.
Good looking guy.  Maybe 50.  Good shape.  Mature.  In the prime of his life.
The only problem?  They – the on-line trading platforms or what was referred to as the Discount Brokers in the 90's – are selling a myth.  Have that work/family balance, beat the system and be the provider you dream you are.  You are that smart. You are the man.  And by the "man" I'm not being sexist. I just mean that virtually all of the ads portray this protagonist as, in fact, a man.
One small problem.  It doesn't work.  The odds that some guy, even if that guy is the founder is one of the biggest and more successful hedge funds on the planet, is going to "get a hunch and bet a bunch" and have it pay off, is so low, it's practically not worth discussing. 

Now don't get me wrong, it's a great story line.  TV programs and movies like Billions and Wall Street are very entertaining.  But that just it; it's entertainment. 
I've had countless conversation over the years, defending why the stock market is NOT just a big casino.  However, actively trading stocks or concentrating in particular stocks or sectors, I believe is extremely similar to gambling in a casino.  
OK, here I go again.  Making it seem like the only thing that works is the boring, long term, low cost approach.  As one of my (former) clients once said, "it sounds like a bit of a yawner." But here's the deal, there's this little thing called evidence.  As much as you, and the younger version of me, want the Masters of the Universe to be able to outsmart the system and "generate alpha," there's just one problem - there's just no evidence that is consistently works.  
Now of course I am not saying it is impossible to come up with a great idea, get a great hunch, bet a bunch and have it pay off.  What I am saying is it is virtually impossible for someone to do this on a consistent enough basis that, over time, on a risk adjusted basis, it pays off.
I once heard Richard Bernstein – fellow Merrill Lynch and Hamilton College alum – say that is you take 100 people and put them in barrels and send them off of Niagara Falls, 10 people will survive.  If you then take those 10 people and send them off again, maybe 1 or 2 will survive.  And what then happens to those 1 or 2 people?  They spend the rest of their lives getting rich telling people how to survive going over Niagara Falls in a barrel.
I truly believe that most successful hedge fund managers are just the 1-2% of people who survived the Niagara plunge.  They took a huge risk and it paid off.  It's hard enough to do one time but doing it over and over again on a consistent basis?  Nearly impossible.
My suggestion? get your kicks (and your dopamine hit) skiing, playing guitar, coaching little league or playing neighborhood poker.  When it comes to the financial future of your family and maybe even your great grand kids, stick with the boring get rich or better yet STAY rich strategies that are proven to work.
Robert F. Carrigg, Jr., CFP®
rob.carrigg@stewardpartners.com
603-427-8840

KEEP IN MIND THAT INVESTING ALWAYS INVOLVES RISK AND YOU MAY INCUR A PROFIT OR LOSS REGARDLESS OF STRATEGY SELECTED.
ANY OPINIONS ARE THOSE OF ROB CARRIGG, JR., CFP® AND NOT NECESSARILY THOSE OF RAYMOND JAMES. STEWARD PARTNERS GLOBAL ADVISORY LLC AND THE CARRIGG WEALTH MANAGEMENT GROUP MAINTAIN A SEPARATE PROFESSIONAL BUSINESS RELATIONSHIP WITH, AND OUR REGISTERED PROFESSIONALS OFFER SECURITIES THROUGH, RAYMOND JAMES FINANCIAL SERVICES, INC. MEMBER FINRA/SIPC. INVESTMENT ADVISORY SERVICES OFFERED THROUGH STEWARD PARTNERS INVESTMENT ADVISORY LLC.
CERTIFIED FINANCIAL PLANNER BOARD OF STANDARDS INC. (CFP BOARD) OWNS THE CERTIFICATION MARKS CFP®, CERTIFIED FINANCIAL PLANNER™, CFP® (WITH PLAQUE DESIGN), AND CFP® (WITH FLAME DESIGN) IN THE U.S., WHICH IT AUTHORIZES USE OF BY INDIVIDUALS WHO SUCCESSFULLY COMPLETE CFP BOARD'S INITIAL AND ONGOING CERTIFICATION REQUIREMENTS. Adtrax 2909353 Exp 01/23/2021.