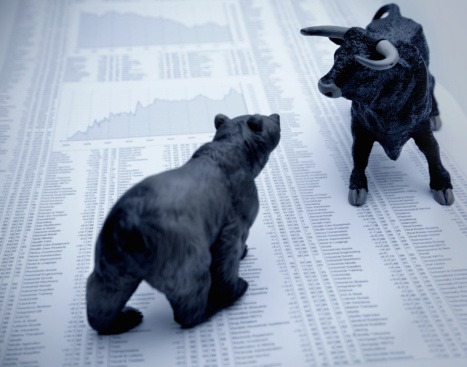 Are investors' expectations unrealistic?  In a recent (2021) Global Survey of Individual Investors, Natixis Investment Managers found that the average investor was expecting global investment returns of 14.5% above inflation. With the CPI (consumer price index) currently hovering around 5.3%, that would be a return of close to 20%.  In the same survey, Natixis found that Financial Professionals were predicting a return of 5.35%, also above inflation, so more like a 10% return.  Meanwhile, a number of prominent money managers and investment strategist have recently been making some tepid predictions for stock market returns.  Savita Subramanian from Bank of America recently published a report predicting negative returns for the stock market over the next 10 years.  Other firms like Vanguard are predicting US stocks market returns in the 2-4% range.  This is, of course, before fees, taxes and inflation.
So, what's an investor to do?
First, remember, these are only predictions.  As the famous philosopher Yogi Berra once said, "It's tough to make predictions, especially about the future."  All kidding aside, the stock market has a long track record of going up over most meaningful time periods and trying to predict, aka time the market, is next to impossible.

Second, be patient.  Remember, stocks tend to do well, over the long term, but can go through long stretches without any positive return.  During the 10 year span from 12/31/99 to 12/31/09, the total return for the SP500 was -9.08%.  Could this happen again?  Of course, but investors that hung around for the next decade were generally very well rewarded.

And third, maybe we all need to save a little more and have more realistic expectations for our lifestyles.  As I've pointed out before, many of us have expectations for a lifestyle, including vacations, weddings and second homes, that was once reserved for the ultra-rich or even royalty.  I will also add, some of the happiest people I know live well below their means.  
Am I saying that stocks will be flat for 10 years?  No, but I am not in the habit of making these types of predictions.  I am saying, be realistic.  The stock market is not going to go up, just because you need it to.  And, if you are modeling out what you need to retire, be sure to use software that includes the impact of the historical sequence of returns, aka Monte Carlo or Probabilistic models. Don't just assume you will make some sort of linear return like 5 or 10% per year.  In the words of Franz Kafka, "better to have, and not need, than to need, and not have."  
Rob F. Carrigg, Jr., is a Certified Financial Planner in Portsmouth, New Hampshire.  He is a problem solver who works to simplify people's financial lives.  Adtrax #3903680